My Blog
Posts for: February, 2019
By John P. Ducar, DDS, Inc
February 19, 2019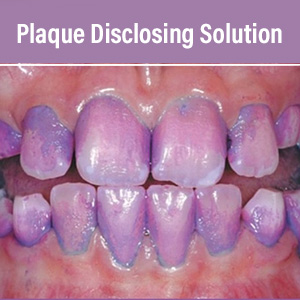 Brushing and flossing your teeth provides a lot of benefits, including a brighter smile and fresher breath. But the primary benefit—and ultimate goal—is removing dental plaque. This biofilm of bacteria and food remnants on tooth and gum surfaces is the number one cause for dental disease.
Brushing and flossing can effectively keep plaque under control. Unfortunately, plaque can be a stubborn foe, hiding in areas easily missed if you're not thorough enough.
So how do you know you're doing a good job brushing and flossing? One quick way is to use your tongue or dental floss to feel for any grittiness, a possible sign of remaining plaque. Ultimately, your dentist or hygienist can give you the best evaluation of your hygiene efforts during your three or six-month checkup.
But there's another way to find out more definitively how well you're removing plaque in between dental visits: a plaque disclosing agent. These over-the-counter products contain a dye solution that stains plaque so it stands out from clean tooth surfaces.
A disclosing agent, which can come in the form of tablets, swabs or a liquid, is easy to use. After brushing and flossing, you apply the agent according to the product's directions. The dye reacts with plaque to stain it a distinct color. You may also find products with two-tone dyes that stain older and newer plaque different colors to better gauge your overall effectiveness.
You then examine your teeth in the bathroom mirror, looking especially for patterns of missed plaque. For example, if you see dyed plaque running along the gum line, you'll know you need to concentrate your hygiene there.
After observing what you can do to improve your future efforts, you can then brush and floss your teeth to remove as much of the dyed plaque as you can. The staining from the dye is temporary and any remaining will fade over a few hours.
Using a disclosing agent regularly could help you improve your overall hygiene technique and reduce your risk of disease. Ask your dentist for recommendations on products.
If you would like more information on improving your oral hygiene, please contact us or schedule an appointment for a consultation. You can also learn more about this topic by reading the Dear Doctor magazine article "Plaque Disclosing Agents."
By John P. Ducar, DDS, Inc
February 09, 2019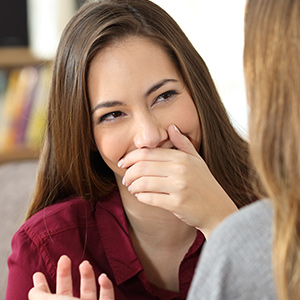 Besides attractively showcasing your teeth, your gums protect your teeth and underlying bone from bacteria and abrasive food particles. Sometimes, though, the gums can pull back or recede from the teeth, leaving them exposed and vulnerable to damage and disease.
Here are 4 things that could contribute to gum recession—and what you can do about them.
Periodontal (gum) disease. This family of aggressive gum infections is by far the most common cause for recession. Triggered mainly by bacterial plaque, gum disease can cause the gums to detach and then recede from the teeth. To prevent gum disease, you should practice daily brushing and flossing and see your dentist at least twice a year to thoroughly remove plaque. And see your dentist as soon as possible for diagnosis and treatment at the first sign of red, swollen or bleeding gums.
Tooth position. While a tooth normally erupts surrounded by bone, sometimes it erupts out of correct alignment and is therefore outside the bony housing and protective gum tissue. Orthodontic treatment to move teeth to better positions can correct this problem, as well as stimulate the gum tissues around the involved teeth to thicken and become more resistant to recession.
Thin gum tissues. Thin gum tissues, a quality you inherit from your parents, are more susceptible to wear and tear and so more likely to recede. If you have thin gum tissues you'll need to stay on high alert for any signs of disease or problems. And you should also be mindful of our next common cause, which is….
Overaggressive hygiene. While it seems counterintuitive, brushing doesn't require a lot of "elbow grease" to remove plaque. A gentle scrubbing motion over all your tooth surfaces is usually sufficient. On the other hand, applying too much force (or brushing too often) can damage your gums over time and cause them to recede. And as we alluded to before, this is especially problematic for people with thinner gum tissues. So brush gently but thoroughly to protect your gums.
If you would like more information on treating gum recession, please contact us or schedule an appointment for a consultation. You can also learn more about this topic by reading the Dear Doctor magazine article "Gum Recession."